Bobbie Thompson
Art Instructor
I was born and raised in Albuquerque's Northeast Heights. I attended Eubank and Bellehaven Elementary schools, Grant Jr. High and Sandia High School. I graduated from The University of New Mexico with a degree in Elementary Education and minor in Art Education. I was already married and the mother of two when I began my teaching career. I taught second grade and kindergarten for many years at Lew Wallace Elementary school in downtown Albuquerque. In 2000, my husband was transferred to Colorado Springs where I was hired to teach elementary art for the first time. I was so excited and up for the challenge. I soon realized this was my true calling. Teaching children about art and facilitating their creativity has got to be the best job I could have hoped for! After teaching elementary art in Colorado for 10 years, I retired and moved home to Albuquerque. I am so happy to be back near my family. I have a wonderful husband of 39 years and two grown children. I also have four beautiful grandchildren, three granddaughters and a grandson. It is so sweet being Ama! Some of my pastimes include spending time with family, reading, loafing on the computer and dabbling in all types of arts and crafts. I feel so fortunate to be working with your children at the New Mexico International School.
Lauren Hunter
Suzuki Violin Instructor
Ms. Hunter holds a bachelors and masters degree in violin performance as well as long term training certification for Suzuki Violin (Books1-10). She is currently the manager of Keller Hall, UNM Music Department's recital venue, and a part time lecturer there teaching string methods to music education majors. Lauren has a private studio of teenage and adult students that she teaches weekly. She enjoys the opportunity to teach all age levels as well as performing with local ensembles and the Transiberian Orchestra when they come through town.
Iman Baaba
Arabic Instructor
I was born and raised in the Middle East. I migrated to the US in 1993, where I got married. I have been living in Albuquerque since then. I hold a bachelor's degree in Arabic Literature and Morphology. I have been teaching at a private school for more than 11 years. I enjoy what I do and strive to enhance my teaching methods.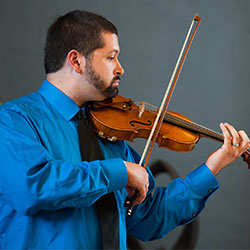 Karles McQuade
Suzuki Violin
Celebrating 20 years of teaching, but brand new to NMIS, Karles McQuade holds a B.Mus., magna cum laude, in violin pedagogy and performance from UNM, as well as a B.A. in physics from Oberlin College. He is a trained and registered Suzuki instructor in Violin Books 1 through 10.
As a violin instructor, Karles has worked literally across the country, from the Hawaiian to the Virgin Islands, and as a judge, clinician, and conductor, Karles has worked literally across New Mexico, from Farmington to Hobbs.
Karles' students have been accepted into prestigious institutions and ensembles including the Sphinx Performance Academy at Oberlin Conservatory, the New Mexico All-State Orchestras, New Mexico School for the Arts, Albuquerque Youth Symphony Program, Santa Fe Youth Symphony Association, and the Mad About Music! tour group.
A skilled orchestrator, Karles orchestrated the music for the 2013 Santa Fe Fiesta Melodrama and produced a symphony orchestra version of J.S. Bach's Passacaglia and Fugue in C-minor. His other arrangements display a marked preference for Spanish-speaking composers, including arrangements of works by Astor Piazzolla (Oblivion), Isaac Albéniz (Leyendas, Córdoba, and Capricho Catalán), Rubén Fuentes (La Culebra), Agustín Barrios (El Sueño de la Muñequita), and Javier Navarrete (Theme from "Pan's Lullaby").
Besides teaching, Karles has worked as a research assistant at the Arecibo Radio-Astronomy Observatory in Puerto Rico and as a graveyard-shift cabbie in Santa Fe. His favorite chord (and ice cream!) is Neapolitan.
––––––
Hello Everybody!
I am THIS EXCITED to have the privilege of being your new violin teacher (picture me standing with my hands as far apart as they can possibly go).
Like you all, I'm a Suzuki kid and I went through most of the books. My favourite music is called baroque; it's a very old style, from about 1600 to 1750. I'm kind of a music history geek: I have the useless ability to listen to a piece of classical music and tell you the composer, time period, and country it's from.
I have a photographic memory, but I'll need to ask you your name more than once. I am very fond of spiders, because if you have spiders, you don't have to worry about other kinds of bugs.
I've been teaching violin for about 20 years. I love to teach even more than I love to perform. My students have been as young as 3 and as old as 66. I've taught groups of kids from pre-Twinkle to past Book 4, as well as note-reading, chamber and orchestra classes. I've also done a fair bit of performing, from solo recitals to chamber groups to stage plays, musicals and operas. I also teach and play viola.
I teach because I love to teach, so you can expect to not only get better with each lesson, but have a lot of fun while you're at it.
See you soon!
~Karles