Todd Knouse
Head of School
I was born in Bend, Oregon, but moved to southern California with my mom shortly after being born. After high school, I went to California Polytechnic State University in San Luis Obispo. I knew all along I wanted to be a teacher, and was lucky enough to get a teaching job in San Luis Obispo right after graduating.
During my first year teaching I met my wife-to-be, who was also a first year teacher. I taught for 10 years in elementary and middle school, and went back to school for my Master's degree in Educational Administration before we moved to Albuquerque. When we came to Albuquerque, I worked as a teacher trainer for Albuquerque Public Schools for four years. In 2011, I was hired to open NMIS as a brand-new school. I have been leading the school since we opened our doors, witnessing us grow from a tiny start-up to the amazing school we are today.
My wife and I are blessed with three great kids. Our two oldest are in high school, and our youngest is a student here at NMIS.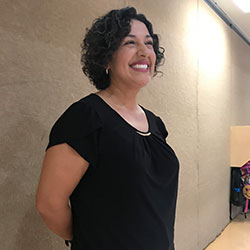 Julia Rivera-Tapia
School Director
Julia Rivera-Tapia graduated from the University of New Mexico with a bachelor's degree in Bilingual Education. Her teaching career began in the summer of 2005. In 2009 she moved to New York to obtain a master's degree in Educational Leadership from Columbia University. Mrs. Rivera-Tapia was an intern principal at Coronado Elementary School where she had the privilege to learn from an amazing principal. In 2010 she obtained her administrator license but made the choice to remain in the class as I was also a new mother. Sub-Directora Rivera-Tapia is passionate about bilingual education and witnessing the magic when students begin to read and write! Besides teaching kindergarten, she has been a first grade teacher, early childhood liaison, an instructional coach, an IB coordinator, and has served as a school leader in many capacities as well as an advocate in non-profit organizations throughout the community. Mrs. Rivera-Tapia has experienced the growth of New Mexico International School, and is truly fortunate to be able to be a part of this new phase. Mrs. Rivera-Tapia is married to Luis and they have three amazing children, two guinea pigs, and a dog named Cachito (because he is really tiny).
Corinne Teller
Finance Director
I am from Albuquerque, NM. I graduated from Valley High School and then went on to graduate from UNM with a Bachelor of Science. After graduating, I lived in Chicago and Florida. I have always been interested in the diverse education offered through charter schools. I am not seen at the school very often because I am often in my office crunching numbers, doing what I can to drive the finances behind our successful school. I love working in an office, working with the numbers an helping with the students when I can. This is my first job working at a school- working around children and parents who appreciate the benefits of a charter school like NMIS makes it even more enjoyable to come to work! I love the sounds of kids working, playing and learning to speak Spanish.
Paula Popp
Operations Manager
I was born in Albuquerque, New Mexico. During my sophomore year of high school, my father's company moved to Rapid City, South Dakota where I finished my high school career. After graduating in Rapid City, I returned to Albuquerque and attended UNM for two years. During this time I was hired at Untied Parcel Service as a customer counter clerk and was later promoted to a supervisor position where I worked for fifteen years. While working for UPS, I met my husband, John. Together we have three children, Jessica, Erica and Anthony. After having my three children, I made the decision to leave my work with UPS and instead stay home and to raise my children. During this time I volunteered at Petroglyph Elementary School helping in my children's classrooms. After many volunteer hours, the principal at the time, asked me to take a long term substitute position in a pre-school class where I fell in love with teaching. I have spent the last ten years working in early childhood classrooms. Now that my children are older I have decided to begin a new venture outside of the classroom. I am so pleased to have found NMIS, this wonderful school with such a warm community to continue working in schools
Carmen Farello
Registrar
No bio available at this time
Eliza Gutierrez
Receptionist
I worked for the Public Schools and the Public Education Department for over 35 years. I retired in 2013 from Bernalillo Public Schools. I am truly enjoying substituting in the classrooms here at New Mexico International School and working at the front desk.
Marlene Torres Quinones
Health Assistant
I was born in Cd Juarez, Chihuahua. At the age of 6 my parents decided to immigrate to the United States where I started my life. As a Spanish speaking person, it was difficult to learn a second language, but I did my best because I knew that speaking more than one language was going to help me in the future. My parents got divorced when I was only 9 – that is when the hardest process in my life begin. I went from high A's to low F's and never thought that with my mother's support and motivations I was going to attend high school. I graduated high school in 2011 and decided to start an associate degree in Teacher Education because I always wanted to become a teacher. As I was almost done with my associates, I changed my mind and wanted to be an early childhood teacher. As I was finishing my associate degree I got married and decided to take a year off from college. In 2016 I decided to go back to school and started with an associate degree on Early Childhood. I have worked in APS as a child care provider and as the director of the before-and-after school programs. In 2019 I got the opportunity to be part of an amazing school NMIS.